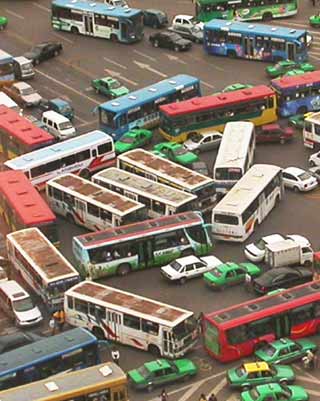 A lot has been made about the Auto Shanghai 2007. A Shanghai Daily article entitled
China shows prowess in clean-fuel vehicles
describes the situation:
China topped Japan as the world's second-largest car maker last year, with sales up 25 percent to more than 7.7 million units.

Homegrown brands increased their share of the passenger car market to 30 percent last year from 25 percent in 2005.

This year an unprecedented number of homegrown brands showed off their latest efforts to embrace the cutting edge of automotive technology.

Chinese car makers have been increasing efforts to develop new designs and build their brands into household names since last year, but the car show is the first major opportunity for them to showcase their research and development on the vehicles of the future.
Early last year, Shenzhen media announced that there were 1 million registered cars in Shenzhen. Although this may be a surprise for everyone driving on shenzhen's streets (since it seems more like 10 million), it's true and will soon get worse. Officials projected that by 2010, the number of cars will double to 2 million.
The potential growth in the market and the optimism for its future development is slowly being clouded by the situation on the ground. Traffic jams occur every day in every city. Cars are impossible to park and the streets are becoming more chaotic. It might even feel like the social fabric is slowly unraveling. (Check out my post, Blackout Shenzhen? Felt like it. for more.)
A recent Shenzhen Daily article, Driving license scam exposed, sheds new light on the increasingly worse situation.
Nearly half of all new drivers in Shenzhen obtained driving licenses from other cities without undergoing proper training…[where] local training schools arranged for one-day tests in other cities, including Shanwei in Guangdong and Ganzhou, Ji'an and Jingdezhen in Jiangxi.

Some schools simply "sold" driving licenses issued in other cities, the paper said. Such driving licenses are usually issued three months after 4,500 Yuan (US$582) is paid, and no test is needed, according to the report…

[Just] before the Spring Festival this year, up to 2,000 trainees of a Shenzhen driving school took dozens of buses to Jiangxi to take part in one-day tests. Most trainees passed the test in the first attempt. The few people who failed initially all passed in the second attempt, the paper said, implying that the school bribed the authorities to make it easier for its trainees to pass the tests.
It is almost expected that scams like this would occur for obtaining drivers licenses. With the increase in the Chinese middle class combined with the increasingly high costs just to go to a driving school and obtaining a license, "entrepreneurs" are taking advantage where they can. I even recently saw a post on one of the Shenzhen expat forums where one person was offering a similar service for foreigners. For 1000 Yuan, this person would walk you into the test and tell you all the answers for the driving test. Quite a deal.
Hopefully the Shenzhen government can do more to prevent untrained drivers from getting on the road ASAP. Otherwise, ill be sitting on bus 106 for another 90 minutes just to get to work.